Message
Profile
Former Chief Justices
Welcome to the website of the Supreme Court of Korea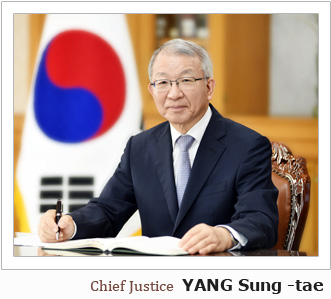 The judiciary is committed to enhancing interaction and communication with the people. We will use our best efforts to make courts transparent and open by enabling the people to look into courts and further to understand the judiciary.
We sincerely hope that this website will serve its purpose of offering easy access to judicial information at your convenience. This will also be the channel through which we can hear your valuable message.
All members of the judiciary are dedicated to communicating with the people. We will endeavor to be with you as always.
Thank you.
The Honorable Chief Justice YANG Sung-tae was born in Busan on January 26, 1948. He received his LL.B. from Seoul National University and passed the 12th National Judicial Examination both in 1970.
His judgeship began in November 1975 as a judge of Seoul Civil District Court. Throughout his career, he served as a judge in nationwide courts including Daegu District Court, Seoul High Court, Jeju District Court, Busan High Court, and Seoul Central District Court. He also taught as a professor at the Judicial Research and Training Institute. He was appointed as the Chief Judge of Busan District Court and Patent Court (High Court level). In February 2005, he was named as a Supreme Court Justice and served a full term of six years.
During the financial crises which occurred in late 1990's, Chief Justice Yang, then as the Senior Presiding Judge of the Bankruptcy Division of Seoul Central District Court, ordered court supervision of bankrupt companies based on fairness and transparency. As the Vice Minister of the National Court Administration, he played the major role in reforming criminal procedure.
Chief Justice Yang authored many legal thesis in the area of bankruptcy including Validity of Registration containing Correction of the Title holder's name (1988), Relationship between the Provisional and the Main Registration (1987), and other legal sectors such as The Background and Basis of Admissive Trials to the Court of Final Appeal (1996) and The Current and Future of Concentrated Trial System (1996).
On September 25, 2011, he was inaugurated as the 15th Chief Justice of Korea.