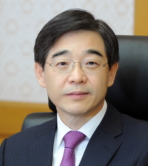 KWON Soon-il
The Honorable Justice KWON Soon-il graduated from Seoul National University (SNU), College of Law. He started his judgeship at Seoul Criminal District Court in 1985. He received his LL.M. from Columbia Law School (1992), studied in Berkeley Law School (Visiting Scholar, 2002), as well as Federal Judicial Center (Judicial Fellow, 1998). Having completed a Ph.D. at Seoul National University, he authored ¡°Theories of Securities Professionals' Duty to Protect Customers and Duty of Care Regarding Investment Recommendations¡± and a number of articles on major issues that arise in the fields of public, civil and comparative laws.
While working as a presiding judge of the Seoul Administrative Court from 2004 to 2005, Judge Kwon made efforts to broaden the scope of information disclosure law, consistent with the belief that public participation and deliberation are indispensable to the representative democracy. Such efforts were well manifested through his opinions deciding on cases regarding disclosure requests made by a tenant of public housing for information on construction cost, and made by a civic group for the list of medical clinics with high percentage of antibiotics prescriptions.
He has a reputation of being concerned with the protection of the underprivileged sections of the society. In a well-known case regarding the scope of Labor Standards Act, he decided that part-time lecturers at private universities should be treated as ¡°workers¡± as defined in the Act. In cases regarding the Workers¡¯ Compensation Act, he also wrote opinions that administrative agencies apply higher standards concerning safety and health in the workplace.
While serving as Chief of Planning and Coordination Office of National Court Administration (NCA) and Vice Minister of NCA consecutively from 2011 to 2013, he endeavored to launch a new personnel system aimed at recruiting judges among the experienced legal professionals and took the leading role in the establishment of Judicial Policy Research Institute.
Justice Kwon was appointed as a Justice of the Supreme Court in 2014. In a landmark case regarding undocumented migrant workers¡¯ right to form a trade union (2015), he wrote the majority opinion that foreign laborers are entitled to file the trade union registration with the Labor Office regardless of their visa status. In a controversial case regarding contingent fees for criminal defense attorneys (2015), he wrote the unanimous opinion that so-called ¡°success fee¡± agreement should be considered unethical and illegal.
Justice Kwon is also serving as the Chairperson of the National Election Commission since December, 2017.