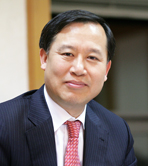 PARK Byoung-dae
The Honorable Justice Park Byoung-dae was born on September 5, 1957. He passed the 21st National Judicial Examination in 1979 and received an LL.B. from Seoul National University in the following year. After the completion of a two-year training program at the Judicial Research and Training Institute(JRTI) and his military service, he was appointed as a judge of Seoul Civil District Court in September 1985. He also received an LL.M. from Cornell University School of Law in 1991.
As a career judge, he was seated at nationwide courts including Seoul Central District Court and Seoul High Court. He also taught at JRTI.
Justice Park has an extensive background in judicial administration. He served the National Court Administration(NCA) as Director-General for Litigation, Chief of Judicial Policy and Chief of Planning and Coordination. During that period, his significant accomplishments contributed to the development of judicial system and policy measures. He earned his recognition for mapping out a new model for civil procedure and remodeling of criminal procedure both based on intensive court hearing. He also introduced citizen's participation in criminal trials, and established ADR Center within court compound to facilitate ADR services.
He was serving as Chief Judge of Daejeon District Court prior to his appointment as Justice of the Supreme Court of Korea in June 2011. He delivered a large number of notable decisions in various scope which embodied issues of court's obligation to provide assistance for self-represented litigants, protecting the right of publicity, broadening the sphere of welfare recipients, harmonizing rights and interests between labor and management, recognizing and protecting newly emerging concepts of right as copyright originating from broadcasting, active judicial control over the arbitrary exercise of administrative power and enhancing the rule of law in the field of administration.
Justice Park composed number of thesis and commentary publications. He co-authored Civil Law Commentary, and in 2005, he was recognized with Legal Thesis Award presented by the Korea Legal Center for his dissertation titled A Structural Analysis on Judgement Standards of Performance for Illegal Causes.