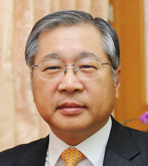 KIM Yong-deok
The Honorable Justice KIM Yong-deok was Born in Seoul on November 20, 1957, Justice Kim earned his LL.B. from Seoul National University and passed the 21st National Judicial Examination in 1979 during his undergraduate years. He was appointed as a Justice on January 3, 2012.
He was called to bench in September 1985 as a judge of Seoul Civil District Court. As a career judge, he served at Seoul District Court, Seoul High Court and taught at the Judicial Research and Training Institute (JRTI).
At the Supreme Court, he served for four years as the Chief Research Judge and contributed to developing jurisprudence in the process of forming Supreme Court decisions on cases in which interests of members of society sharply conflict. He is also given the credit for improving research judges' work efficiency by allowing recruitment of non-judge researchers.
He held several judicial administrative offices. As the Director General for Registry of the National Court Administration (NCA), he implemented computerized real property and family relations registration process. When serving as the Vice Minister of NCA, he conducted the main framework to amend the Court Organization Act in order to portray reform measures of judges recruitment process.
Justice Kim composed a number of theses and commentary publications. He is a co-author of Civil Law Commentary. His master's thesis is Corporate Reorganization Process and Relations between Plural Creditors and Debtors which was based on his experience in corporate insolvency cases. He also produced several theses in the areas of insolvency, commercial and civil laws such as Problems in Commencing Corporate Reorganization Process, The Criterion and the Scope of Immunity from Liability in Bankruptcy Proceedings, and Partial Subrogation of the Refunder.