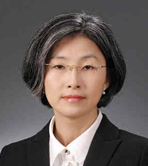 MIN You-sook
The Honorable Justice MIN You-sook was born on January 31, 1965 in Seoul. Justice Min earned her LL.B. from Seoul National University and passed the 28th National Judicial Examination in 1986. She was appointed as a judge in March 1989 and started her judgeship at Incheon District Court.
Justice Min served as a judge at various courts including Seoul Family Court, Supreme Court, Seoul Central District Court and Daejeon High Court. She was appointed as Justice in January 2018 while serving as the Presiding Judge of Seoul High Court.
Based on the belief that the key to a trial of goodness and warmth is to be engaged with the case and be a careful listener for each and every story of the parties, she has endeavored for all citizens, whether they are the majority or minority, or men and women, to enjoy the rights endowed and for the rational resolution of social conflicts and disputes, all while keeping in mind the necessity for the protection of the socially and economically vulnerable groups and the everyday citizens.
She has served as the board member of the Asia-Pacific Regional Conference of the International Association of Women Judges and the President of the Gender Law Association established under the Supreme Court of Korea. Her distinguished contribution also includes the hosting of the 2016 Forum for Gender Equality in the Courts that enhanced the awareness on gender perspective and establishment of the organizational culture for gender equality in the courts.
Proven with the numerous papers on family law and the service as the board member of the Korean Society of Family Law, Justice Min is highly reputed for her profound knowledge in the family law, as well as for the high competency in legal practices across various fields as recognized by the five years of service as the Research Judge at the Supreme Court.