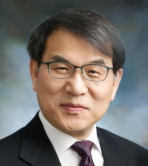 RHO Tae-ak
The Honorable RHO Tae-ak was born in Changnyeong, Gyeongsangnam-do on November 20, 1962. He received an LL.B. from Hanyang University, College of Law. He passed the 26th National Judicial Examination in 1984. He was appointed as a judge in March, 1990.
Since he began his judgeship at Seongnam Branch Court of Suwon District Court, he served as a judge at various courts including Seoul High Court, Supreme Court, Judicial Research and Training Institute, Seoul Central District Court, Patent Court and Seoul Northern District Court. He was appointed as a Justice on March 4, 2020 while serving as Presiding Judge of Seoul High Court.
During his 30-year judicial career, he handled numerous criminal, civil and administrative cases. In particular, he delivered a number of significant decisions on international transaction and arbitration cases based on extensive legal knowledge and trial experiences. Justice Rho is known for his endeavor to realize social justice through fair and impartial decisions as well as continuous efforts to enhance social inclusion of minority and socially vulnerable groups and ensure basic rights of the citizens.
With the belief that a judge does more than handling cases as the decisions influence a personí»s life, Judge Rho expressed his view that a case contains the past, present and future of the parties, which is why judges need to be attentive and sincere to them. In addition, he emphasized that judges need to reflect over whether the decision conforms to the law and conscience, make thorough consideration over other opinions, and question themselves if he/she has the courage to uphold justice despite unfavorable adversities.
While serving as the first and second Vice Chairman of the Korea Association of the Law of Civil Procedure, Vice Chairman of the Korea Private International Law Association and President of International Transaction Law Association of the Supreme Court, Justice Rho spared no efforts to share the research outcomes with scholars and professionals. He is known as a judge who continuously seeks for knowledge and he authored numerous papers and commentary about the practical legal issues that arise in various types of cases such as civil, criminal, international private law, arbitration and intellectual property rights cases.