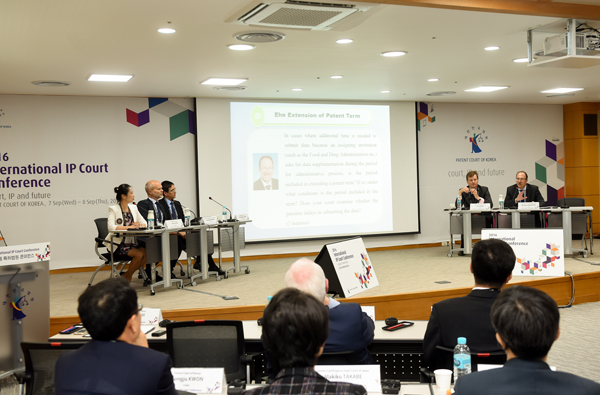 [ 2016 International IP Court Conference ]
In September 2009, Judicial Symposium in Korea was held in Seoul under the theme of 'International Trends in Business Insolvency Procedure'.
The Supreme Court held the Judicial Colloquium in Korea 2010 in 2010. The theme was 'International Trends in E-filing System' and the Court invited two professional practitioners in E-filing system each from the U.S. and Singapore.
On the other hand, the Supreme Court held the 2nd Judicial Symposium in Korea in October, 2012 with the theme of 'Communication and Participation.'
In October 2013, the Supreme Court of Korea held the 3rd Judicial Symposium in Korea under the theme of 'the Role of Courts for Intellectual property and Technology Innovation' with Korean legal professionals overseas in attendance at the invitation of the Supreme Court of Korea.
In July 2014, the Supreme Court held the 4th Judicial Symposium under the theme of 'International Judicial Cooperation for the Rule of Law and Human Rights.' Among the internationally renowned speakers and panelists were Korean jurists abroad, such as Judge Song, Sang-hyun, the President of ICC; Judge Kwon, O-Gon at the ICTY; and Judge Chung, Chang-ho at the ECCC; and those foreign legal professionals, such as Registrar Herman von Hebel at the ICC; Professor David Scheffer, the UN Secretary-General's Special Expert; Professor David Cohen; and UN ambassadors of the ICC State Parties, such as Chile, Nigeria, Liechtenstein and the Philippines. The 2014 Symposium served as an occasion to expand judicial initiative of Korea in Asia, ensuring the development of human rights laws through international courts.
In 2015, the Patent Court of Korea in Daejeon hosted 2015 International IP Court Conference with the theme of "Court, IP, and Innovation" from October 14 to 15. Many judges and law professionals from various countries including the U.S., Germany, China and Japan attended the Conference and actively participated in the sessions. By hosting the 2nd Conference with the theme of "Court, IP and future" in September 2016, the Patent Court of Korea provided an arena for renowned IP judges and legal professionals around the world to compare IP litigation practices of different countries and to seek for the measures of improvement and cooperation. Various topics which lead current IP disputes of the world were discussed in depth.
The Supreme Court will further international judicial exchanges, by providing international fora for academic discussion such as international judicial symposia and international judicial colloquia on a regular basis.