Message
Profile
Former Chief Justices
Fellow citizens!
The Korean judiciary is always doing its utmost to guarantee the basic rights of all Koreans. All members of the judiciary will devote themselves to live up to the expectations and trust of our fellow citizens by providing a 'decent trial' to the public.
I ask for your encouragement and support so that our genuine efforts can bear a fruitful result of being the 'Court, truly admired and trusted by the people'.
This website serves as a channel through which we provide judicial information to the public, and a space where we can listen to the voices of the people with regard to the judiciary. We will heed humbly the invaluable messages of our fellow citizens and reflect upon ourselves in line with the level of people's expectations. The Court will also take it as a valuable opportunity to bring the judiciary one step closer to the public. I hope the meaningful engagement between our fellow citizens and the judiciary will continue here on this website.
Thank you.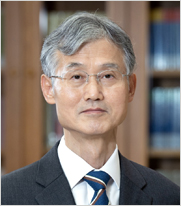 Chief Justice KIM Myeongsu was born in Busan on October 12, 1959. He received an LL.B. from Seoul National University, College of Law in 1981, and passed the 25th National Judicial Examination in 1983. He was appointed as a judge in March, 1986.
Since he began his judicial career at Northern Branch Court of Seoul District Court, he was appointed to various courts including the Supreme Court Research Division, Seoul Central District Court, Patent Court, Seoul High Court, and Chuncheon District Court as the Chief Judge. He was sworn in as the 16th Chief Justice of the Republic of Korea in September, 2017.
For the last thirty-one years of his judgeship, he made an unwavering commitment to guaranteeing the basic rights of the people, protecting the minorities, and firmly establishing the rule of law by conducting trials and engaging in judicial administration.
Chief Justice Kim is the author of numerous papers on labor cases such as "Pay deductions during a period of industrial actions (1998)", "Conducting layoffs and disputes subject to industrial actions (2005)", "Retroactive effect of judgment on affirmation of non-existence of a resolution by the shareholder's general meeting (1993)", and "Binding force of the Constitutional Court's modified forms of decisions (Constitutional in certain context, Unconstitutional in certain context, and Unconformable to the Constitution) and adjudication in general courts (1997)".