Introduction
Vision of e-Court
Electronic Courtrooms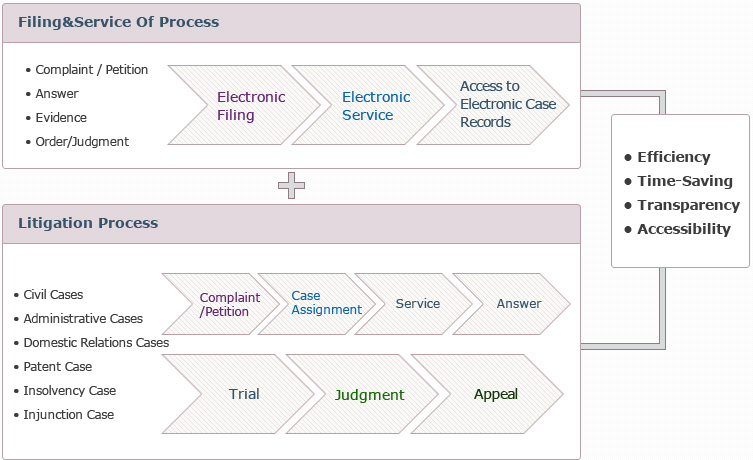 The Electronic Case Filing System (ECFS,
http://ecfs.scourt.go.kr
) is the Korean Judiciary's electronic litigation system. It is a comprehensive system that allows litigants and their attorneys to file and manage cases, as well as access court information and procedures electronically. They are able to file all court documents, documentary evidence and digital evidence over the Internet without physically visiting the courts. After filing a case via ECFS, the plaintiffs/petitioners receive e-mail and text message notifications when the other parties submit documents to the court. If the defendants/respondents consent to e-filing, they may also receive electronic notices of the other parties' filings. Such notice, in conjunction with access to case records and procedures electronically, allows all parties using ECFS to promptly check the current status of the proceedings.
In addition to litigant access, the computerized case management program of ECFS also allows judges and court officials to manage cases much more efficiently by viewing electronic case records and checking case statuses in a speedy manner. ECFS opened a new chapter of electronic litigation by replacing the already-existing paper-based litigation. Judges are able to conduct paperless hearings because all the electronic case files, including documents, are retrieved from central databases and viewed on monitors and larger screens in courtrooms.
Due to privacy and security reasons, access to electronic case files is available to litigants and their attorneys but not to the public. However, the online judgment search service for the decisions of the Supreme Court as well as the lower courts' opinions is accessible to the public.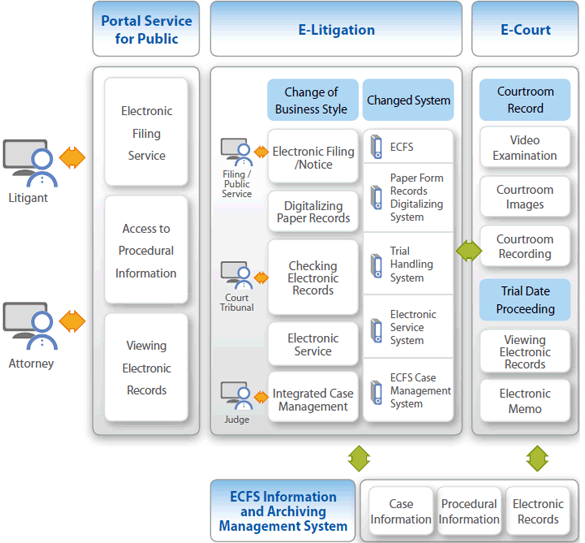 Litigants and their attorneys may electronically file documents and evidence for certain types of cases on the ECFS website. They can also access case records and procedural information and search for legal information, such as the Supreme Court's decisions, articles or news regarding the law. In addition, ECFS provides the parties with several stable and convenient services connected with the electronic services of financial institutions, registration offices and other public institutions involved with litigation-related matters.
Judges and court officials may manage cases for electronic litigation by efficiently scheduling and preparing for hearings through ECFS.
The Supreme Court is planning to replace all case-related paper documents with e-documents eventually to enable convenient high quality service to the litigants. In addition, the courts will be keeping e-records of the trial procedures, to save costs resulting from filing, distribution and storage of paper documents and at the same time to provide advanced judicial service, save energy, and realize the new trend of establishing green IT.
E-trials began its first service on April 26, 2010 after ECFS for patent cases was implemented. In expanding this successful innovation, e-trials were later implemented in the following cases: civil cases in May 2011, administrative and family cases in January 2013, injunction cases in September 2013 and insolvency cases in April 2014. E-trials for all types of cases, except criminal cases were launched in March 2015 completing ECFS for execution against property and non-Litigation cases. ECFS is aimed to realize the Judiciary's ultimate goal of being closer to the public by being fully equipped with electronic case management system at all stages of procedure through not only advancing internal computer system and connecting with external system, but also materializing electronic submission of documents, electronic case management, electronic oral argument, etc.
As for the e-courtrooms status, 26 e-courtrooms were completed in 2008 based on the model e-courtroom created in 2006 and simplified e-court rooms are now available in all nationwide courts with the exception of (+ court) auction, writ and summary courtrooms. From 2011 to 2014, all general courtrooms were equipped with IT systems allowing access to all e-records and recording trial procedures.
In the future, all cases will be heard in e-courts which will further promote efficient, convenient and transparent trials in the hope of practicing innovative trial procedures and sharing judicial information, in all leading to realize a judiciary, truly serving the public.
Status of annual application of e-Filing of civil cases (1st instance)
※Civil e-FilingSystem was launched in May 2011.
Status of annual application of e-Filing of civil cases (1st instance)
2011.5.
2012
2013
2014
2015
2016
(As of 6.30.)
Panel of
three judge
cases
Paper filing
34,363
47,710
42,802
33,278
15,901
5,613
E-Filing
4,087
10,433
17,923
28,480
25,876
13,161
Percentage
of E-Filing
10.63%
17.94%
29.52%
46.12%
61.94%
70.10%
Single judge
cases
Paper filing
139,728
196,501
191,006
168,199
147,742
63,452
E-Filing
21,870
50,078
70,971
108,693
114,512
58,980
Percentage
of E-Filing
13.53%
20.31%
27.09%
39.25%
43.66%
48.17%
Small claim
cases
Paper filing
307,300
357,207
338,068
293,662
236,046
101,912
E-Filing
108,278
304,682
355,002
432,630
408,932
207,256
Percentage
of E-Filing
26.05%
46.03%
51.22%
59.57%
63.40%
67.04%
Progress of annual number of civil electronic cases filed (Percentage of E-Filing)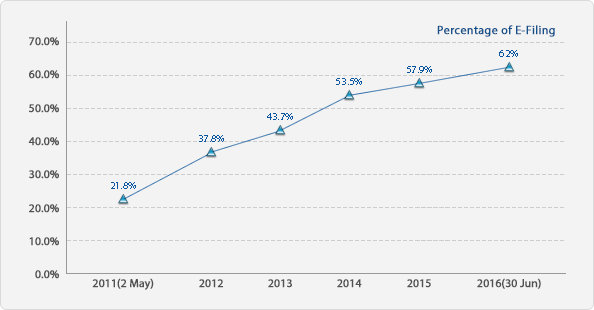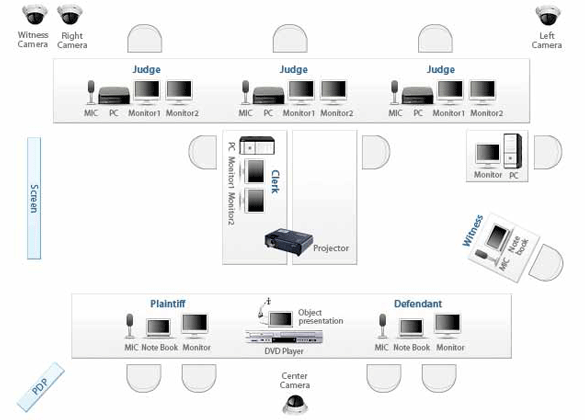 The electronic courtrooms (e-courtrooms) are crucial to the electronic courts (e-courts). The Korean Judiciary has placed strategic priority on establishing e-courtrooms in the courts nationwide. The salient features of e-courtrooms are as follows:
E-courtrooms provide judges with the same type of computer network environment as the judges' chambers. The Internet and all court programs and systems for trials are accessible through computers at the bench in these e-courtrooms, as well as in the judges' chambers.
E-courtrooms support efficient oral arguments/pleadings. They are well equipped with electronic technologies and devices, including computers, digital visual presenters and DVD players. Both parties and witnesses may easily use these devices during the trial. This creates efficient oral arguments/pleadings and enables the audience in the e-courtroom to better understand the ongoing trial.
E-courtrooms serve to improve transparency and accessibility in trial proceedings. Judges and other courtroom participants, such as the parties, attorneys for each party an the courtroom deputy, may view the stenographic records as typed by the court reporter in real-time via their computer screens. In addition, e-courtrooms are equipped with electronic devices that partially or completely record the trial proceedings with the permission of the judge.